May
2007 13
Thanks be to Mom. Peace, love and gratitude for the carcinogens?

Sunday is Mother's Day. Give thanks and praise for the one who birthed you. Thanks to Anglo-Libyan for the image.
Sofie Leon writes about Mother's Day as a call for peace. She recalls the Mother's Day Proclamation, a document written by Julia Ward Howe. Howe writes: From the bosom of the devastated Earth a voice goes up with our own. It says: "Disarm! Disarm! The sword of murder is not the balance of justice." It's particularly salient with so many sons and husbands in Iraq.
Tgaw offers this great mother's day cartoon on her site. It's boosted her traffic in the last week as people search for Mother's Day images on Google, she writes.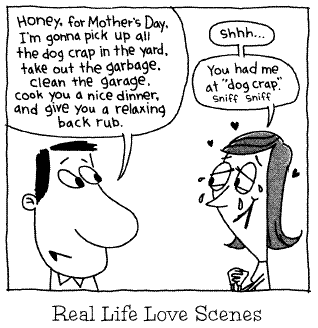 Idadi cellebrates her mother, Ms. Marva Joyce Stevenson. "I love talking with ms. marva, because we share an open line of communication that's more like girlfriends than mother and daughter. we joke, we laugh, we commiserate… sometimes we even plot. *wink* there's an air of mutual respect between us that can only exist between two women," she writes.
Christopher Gavagin writes about women who unknowingly pass toxins on to their babies. "What mother would knowingly slather her newborn with a known carcinogen?" he writes. "The issue here is that few mothers realize this is happening unknowingly, right now, in homes across America." Mothers wouldn't do this if they knew to avoid it, he posits.
Rajahrom writes about how Mother's Day is celebrated in Malaysia: "Tradition calls for the wearing of roses, tulips or carnations on Mother's Day — a red one if one's mother is alive, and white if she has died." Seems mothers also get nice pies too!
Ribbon Rock Star, a mother of three, writes about what makes a good mother. She says it involves reading "Goodnight Moon" twice a night for an entire year. She's also got a great picture on her blog of a woman laying in a tub, enjoying her Mother's Day.
MichiganforEdwards recommends The Nation's "Motherhood Manifesto." The Manifesto cites how difficult it is to be a working mother and calls for health care for children, reasonable wages and maternity leave.
Ajahn Amaro writes about the debt children owe to their parents, citing the Buddha, who said: "If you were to carry your parents around with you for their whole lives—your father on one shoulder and your mother on the other—even to the point where they were losing their faculties and their excrement was running down your back, this would not repay your debt of gratitude to them." But her mother turns this bit of wisdom on its head by telling Ajahn how valuable and enjoyable it is to be a parent. Her mother says: "Why do you talk about it in terms of being in debt? What could be more wonderful and satisfying than bringing children into the world and watching them grow? It isn't like a job that you need to be paid for." There is a certain balance that these two views provide that is comforting.
Last of all, be sure to read PhyllistheAuthor's journal stream on this site and check out PhyllistheAuthor.com, the webpage of the best mom in the universe. Happy Mother's Day!
If this spoke to you, here are five similar articles.